In doing extensive research on the subject of the once-fashionable jean shorts for my sister post to the too-short shorts, I discovered the term "Jorts." Call me a girl on this one, but I'd like to compliment the creator of the term. You, my man, are da man.
Why, you ask, am I discussing the travesty fashion of the jean shorts?
It seems, my dear tens of readers, two of my cousins believe them to be acceptable attire in mixed company. For serious.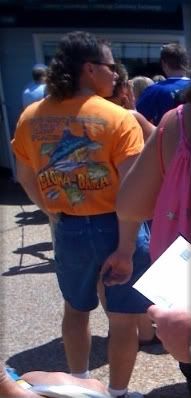 There are still people wearing the short jean. The Jort.
Who are these people and why do they still sport the Jort?
Two of these people are my cousin and my cousin's husband. And they DEFEND their right to wear the jean short. They are PROUD of their jean shorts. They wear them in mixed company at times of sorrow, at times of joy, and at times of togetherness.
Anytime, my friend, is not the right time for the jean short.
They may convince themselves of the convenience or comfort or stylish looks of the Jort, but they need a visit from the Fashion Fairy and a healthy serving of knuckle sandwich.
Most Jorts wearers also don a Mullet (the hairdo, not the fish) as seen in the pictures available here. (My cousins may be the exception to the rule.)
Also perplexing is the propensity to TUCK in the printed t-shirt IN TO the Jorts all-pulled-together by a braided belt loosely knotted and flipped around (as cousin #1 exhibits).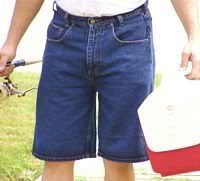 The Jorts fashion is limited to the proud and true 50 States as I've never witnessed any other non-AmeriCAN in all of my 19 days of overseas travel donning the Jorts. If any of you exotics have spotted the Jorts in your local pub, be sure to snap a pic for posterity.
Even though I am a Florida native, I am NOT a Florida (UF) fan. (GO NOLES!) So imagine my elation when I discovered that UF fans actually LIKE wearing jean shorts and do it on purpose. How apropos that the the lowest of the low Floridiots would WANT to wear Jorts.
Lastly, I am inspired by the blog, Stuff White People Like, and I am going out of a limb and proclaim that black people DO NOT WEAR JORTS. None. Not one. This is a white boy phenomenon. I am challenging you, my tens of readers, to link to me a photo of a black man wearing Jorts.
Disclaimer: Jorts do not fall in the same definition as hip hop baggy man capris normally worn by young black men. Jorts are mainly stone- or acid-washed denim adorned with a belt and tucked-in shirt. I'm talking JORTS here, peeps.
Find me a black man in Jorts and you got yourself a $10 gift certificate to my store. (Limited to 2 gift certs in case I'm totally wrong in this.)
************************************
UPDATE:
Angela @ goinpopless is the 1st to submit a black man in Jorts:
Anyone else? 1 more gift certificate left!