Yes, I said "panty." I have no problem with the word, just like I have no problem with the word "moist." I dont' really want to hear the two words together, but separately, no issues here.
No part of my panty drawer is moist. That would be awful. I don't even know why I even thought of that.
I digress.
Totally unrelated to moist panties, we're bringing back the Meme. OH YES WE ARE. All this talk lately about "old school blogging" and going back to basics has made me and a few of my blog friendlies realize that we need to step back into the fun stuff: the Memes. Who knows how long it will last, or if it will even get past today, but Tena and I are starting off by showing you what's in our undies drawer. Because why? Because we're old school bloggers.
What exactly IS a Meme? I'll let Wikipedia explain:
A meme ( /ˈmiːm/) is "an idea, behaviour or style that spreads from person to person within a culture." A meme acts as a unit for carrying cultural ideas, symbols or practices, which can be transmitted from one mind to another through writing, speech, gestures, rituals or other imitable phenomena. Supporters of the concept regard memes as cultural analogues to genes in that they self-replicate, mutate and respond to selective pressures.
That was painful.
The dumbed-down definition as it applies to blogs: Publishing a post with a central idea that is common among any blogger who chooses to participate. See: Wordless Wednesday, 100 Words, Haiku Friday, NABLOPOMO, etc. Most of these Memes have been long forgotten, but there are some old schoolers who still participate.
Haters may hate on Memes, but we're here to bring back the fun part: The participation through peer pressure. The beauty of our Meme, Memes Suck, is that it doesn't have to be published on the same day as the rest of the other participants. We're generous like that.
Tuesday Meme Day: DO OUR MEME OR DIE
Today's Memes Suck is all about showing off, or being embarrassed by, our panty drawers. What's in that most private of privates?
After I took out an incriminating redacted, I took a picture of what's sitting in my top drawer. I'm pretty sure most of what's pictured has been in there since I got the furniture 8 years ago.
Tooth Fairy evidence
Pink undies from 4 sizes ago
Sexytime lingerie from 12+ years ago
Nighties I got from my bridal shower in 1998
A Winnie the Pooh nightie given to me at my bridal shower. And really, who A) buys Winnie the Pooh sexy lingerie, and B) gives Winnie the Pooh sexy lingerie. Wait. Who KEEPS Winnie the Pooh lingerie for THIRTEEN YEARS in her drawer? Me.
Panties that actually fit
Undies that look like boys underwear (Don't start thinking that Patrick likes for me to look like a little boy in these. They're mainly for sleeping. Mainly.)
The only thong I own and have never worn.
1-size-too-small period panties
Bras, not kept in the panty drawer because they hardly ever make it that far from being hung to dry in the laundry room
Want to participate in our Memes Suck meme? Grab a badge, because you have to or it's not a Meme, and link up, because it's not a Meme without a linky. Don't forget – Memes Suck can happen any day, so don't wait around for Tuesdays to participate.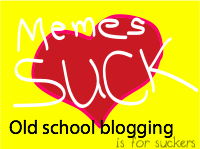 Get the code: