And now, a word from a highly respected representative from Canadia, our 51st state: Ms. Huckdoll.
For those of you who don't know me, I am Huckdoll. Born and raised in Vancouver, BC.
Canada.
Most of my young life was spent inside ice arenas watching my brother, cousins and friends play hockey. Saturday nights especially, were all about being in front of the television watching Hockey Night in Canada, whether I liked it or not.
My home team? The Vancouver Canucks.
I've been to many, many games – on occasion paying upwards of $300 a seat for playoff tickets.
What can I say? I love the smell of ice and more so, the energy of a few thousand people around me in one complex sharing my passion for one single thing – hockey.
When Baby Daddy and I found out we were pregnant, the first thing we purchased were Vancouver Canuck onesies. My daughters fell asleep many nights watching hockey games wearing these little things.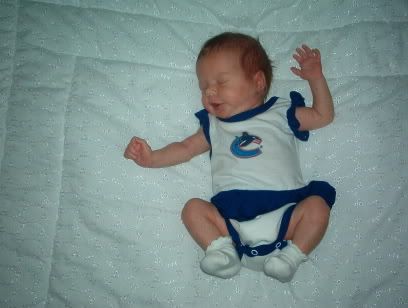 As they got older, they continued watching with us – on their own will. They're almost three and not fully potty trained but they know almost every word to our national anthem. Some nights I'll put them to bed and hear them softly singing it through the baby monitor.
They're hockey girls, through and through. Why wouldn't they be when they live in a country like Canada, in a city like Vancouver with so much love and passion for the game? Not to mention a dad who lives, breathes and plays the game.
This makes me smile and brings a tear to my eye, even. I LOVE Canada THAT much. I'm nothing short of proud to be one of these crazy Canucks in this video.
So, it didn't really surprise me the other evening when my daughter asked me for a hockey beer cup.
What's a hockey beer cup, you ask?
Well, I didn't know either, so I asked her to show me. When finally made our way to the fridge, she pointed.
She wanted a beer.
My almost three year old wanted a hockey beer cup. To be brutally honest, I laughed my ass off. I've really never heard anything so cute in my entire life – that the twins associate beer with hockey. Talk about Daddy's girls!
But, being the good mommy I am, I handed her a juice box instead and she cheers'd me with the unopened beer in my hand.
Only sixteen years to go, my hockey-loving baby girl.
Sixteen years till you realize that spending $24 for three beers at game is something only us crazy hockey fans do with a smile.
GO! Calgary Flames Canucks, GO!