It's times like these when the world seems to stand still.
It's swirling all around outside, while inside, it's stagnant.
The times when the parents of the house are sick.
The poor children are ripe and ready to play. They make plans to go here and there and everywhere, but the parents can't even muster the energy to transfer the dishes to the dishwasher and repeat.
This is one of those times here at Messy House.
Things are getting even messier as the achiness and tiredness continue.
Note to the world: Mono sucks.
It's confirmed that the husband is infirmed with it. It's pretty much a given that I am as well. (I'll be taking my 2nd blood test on Monday to confirm.)
These are times when things like "cereal for dinner" and "bedtime at 7" and "3-hour-long Spongebob marathons" happen.
THIS is the exact time when I wish to the heavens that my mama lived closer to take care of the children.
Damn. Now I shouldn't have even thought that because I'mma start to cry about it.
• • • • • • • • • • • • • • • • • • • • • • • •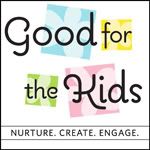 Totally unrelated (but kind of related because we needs monies), my store is having a sale where you can take up to 25% off anything you buy until the end of September. It's appropriately named the Super Sweet September Sale and you should totally tell all your friends. Pretty please?