So yummy! So yummy!
Welcome fellow par-tay ladies from the 5 Minutes for Mom Blog Party! If you haven't heard of the par-tay, stick around, grab some dip, and join in the fun. Well, as much fun as you can have typing away on your compy ignoring screaming kids.
I've been blogging here since mid-2007, and I have a review blog with Dawn from Mom2My6Pack/Because I Said So called Mamas Like. I spend most of my time working on my web store, Good for the Kids, where I offer products for babies, kids, and mamas. It keeps me way too busy, but it's something I've always wanted to do and I think I'm pretty good at it. Check it out. All of my blog readers get a discount using coupon code 10offblog. Bonus!
A little about the "Me" who is typing: I enjoy TV, food, and my compy (oh, MacBook Pro, how I love thee). I've been married for 10 years this September – 8 years too long. I have webbed toes just bad enough to where I can't wear toe socks, I enjoy crappy TV, I enjoy good TV, and I hate cooking. I also hate cleaning, laundry, and general housework. I am on a mission to find a housewife who will work for free. My husband thought he married one, but he was sorely mistaken. To be a good housewife, I'd have to be my mother, and that just wouldn't be good. HockeyMan says he'd trade me in for her any day just to get her cooking and clean socks, but he was under the influence at the time I'm sure.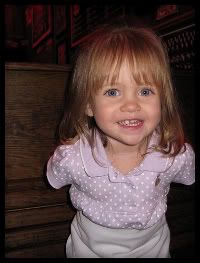 Oh yeah – I have 2 kiddos born 18 months apart. To me, better worse than twins because the older one teaches the younger how to plot against me. Their names are The Boss & Trouble. Just check their birth certificates. They are THE CUTEST kids on earth. DON'T even think of telling me that your kids are cuter. Cause they ain't. And my kids are way smarter than yours.
Now to the good stuff. I have a prize available on the main 5 Minutes for Mom Blog Party, but I'm offering a prize here as well! Two prizes! What could be better?
Leave a comment here by March 14 at 11:59pm telling me how pretty I look today or how heeelarious you think I am (for serious – not required, but SO nice to hear!), sign the Mr. Linky (not required for the giveaway), and you'll be automatically entered to win a $50 gift certificate to my online store, Good for the Kids. That's 50 big ones to spend on your kids yourself just for leaving a comment and getting your bloggy par-tay on!
Go shop now because just for shiz and giggles, if you happen to be the big wiener winner, I'll refund the amount of the gift certificate PLUS domestic shipping costs back to you. BONUS BONUS! You can thank me later.
The winner will be notified here, via email (no need to leave your email address in the comment, just in the form), and on Prizey.Fetch.
Thanks for stopping by! Please come back. I need the validation and attention.
The contest is now over, but feel free to leave comments. I'll always need comment lovin'.